Custom Perfumes: All You Need to Know
7 August 2023
With so many perfumes on the market today, you might worry about not standing out from the crowd. The simple answer to this dilemma is... bespoke perfume. 
Discover the art of personalized fragrance – wearing a unique scent meticulously crafted to your specifications. Our Made in France perfumes feature exclusively high-quality ingredients, ensuring an even more extraordinary fragrance. 
Without further ado, explore the benefits of crafting your own perfume.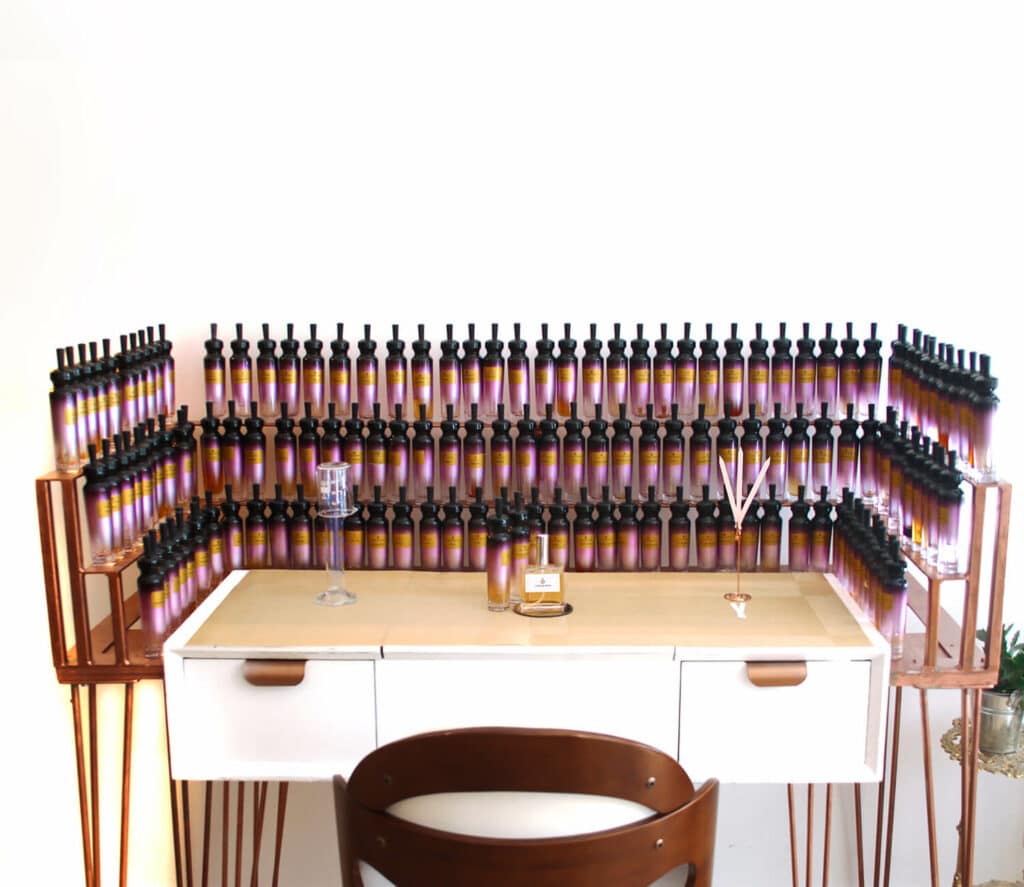 Essences and fragrances - we incorporate as many natural ingredients as possible into every personalized perfume we create for you. 
Welcome to The Perfume Studio in Paris, where innovation meets fragrance artistry. Our extensive collection of over 180 scents, housed within our dedicated organ, fuels the creation of our exquisite perfumes. Sourced exclusively from the global perfume hub of Grasse, each ingredient we utilize is a testament to our commitment to quality. As a result, the possibilities for unique combinations are virtually boundless, allowing us to craft scents as unique as you are.
Crafting Your Signature Scent: A Tailored Blend of Unique Ingredients.
Your Scent, Your Way: Tailoring Perfumes to Your Desires. Prior to crafting your bespoke perfume, we take the time to understand your preferences, guaranteeing a result that perfectly matches your expectations. 
Ensuite, nous créons votre parfum sur mesure avec une combinaison personnalisée d'ingrédients pour fabriquer un parfum unique.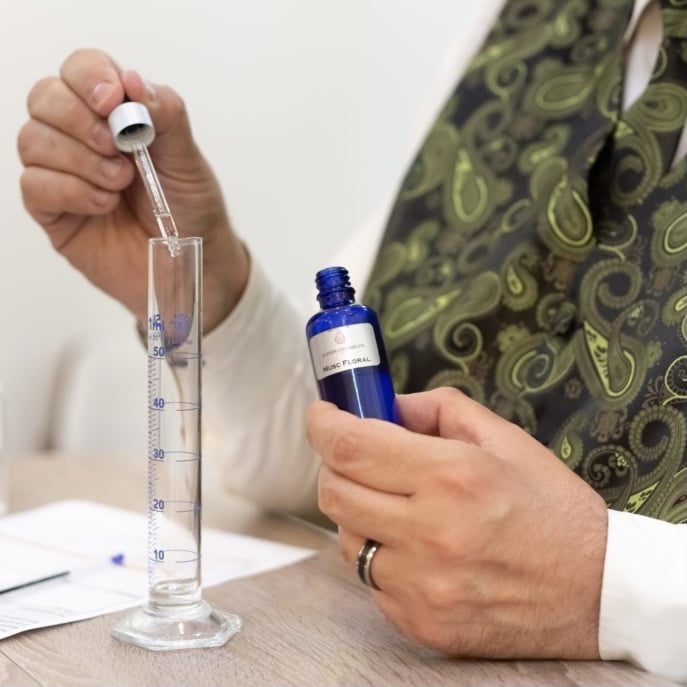 A Symphony of Fragrance: Distinctive Nuances in Every Creation.
A Symphony of Fragrance Tones: Unveiling Layers of Uniqueness. Tones within a perfume unveil themselves in a symphony of olfactory layers. Just like notes in a musical composition, each scent, be it jasmine, hyacinth, or gardenia, contributes its distinct tonality to the final creation. This enchanting evolution ensures that your fragrance experience transforms from the opening notes to the lingering echoes, making each moment with our perfumes a journey of sensory delight.
Guided by Expertise: Your Perfume Journey with a Master Perfumer. As you embark on the journey of creating your personalized fragrance, rest assured that a seasoned perfumer will be by your side every step of the way. Their refined expertise will ensure that your scent combinations are flawlessly harmonized, allowing you to explore an unparalleled olfactory realm with confidence. 
Lasting Impact: The Enduring Power of Personalized Fragrances.
Elevated Excellence: The Lasting Enchantment of Our Custom Fragrances. Crafted solely with premium ingredients, our personalized perfumes exude a sustained allure. Expect a fragrance experience that accompanies you seamlessly throughout the day, requiring only the occasional touch-up after showering or during particularly active moments. Revel in the enduring elegance of a scent that evolves gracefully with you. 
Effortless Elegance: Elevate Your Presence with a Simple Dab. Experience the magic of our perfumes with just a touch on select pulse points, and you'll radiate a captivating fragrance that effortlessly accompanies you through the day and into the night.
Unforgettable Elegance: A Personalized Perfume as a Unique Gift. Beyond personal indulgence, a bespoke fragrance also makes for an extraordinary gift, certain to bring joy and enchantment to the fortunate recipient.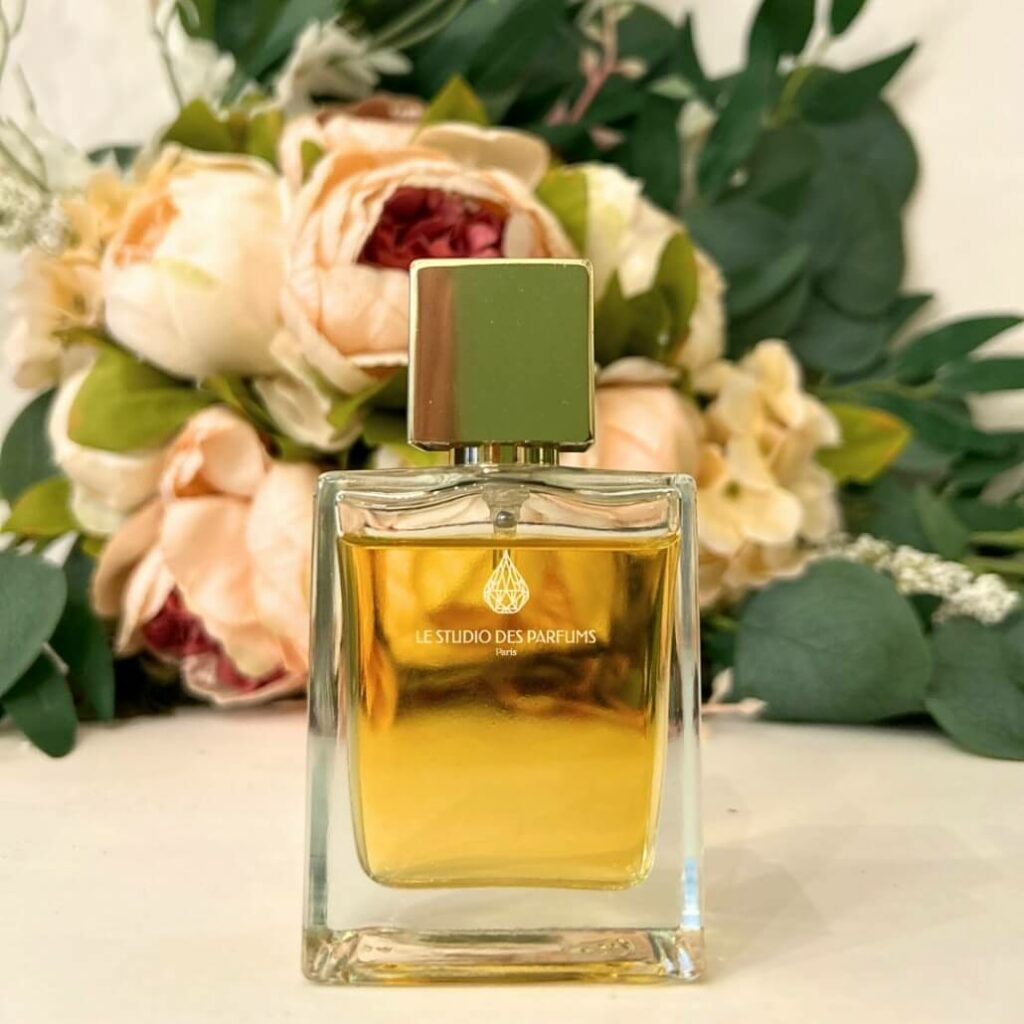 Related Posts